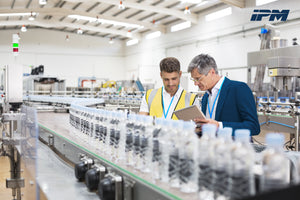 IPM
Process and Technology Experts
Regular price
Request More Information About IPM's Process and Technology Experts
In food and beverage, the right operational practices and technology enable you to minimize costs, micro-manage your supply chain capacity, and make timely, intelligent strategic decisions.

IPM maximizes the efficiency gains and growth potential from your technology system investment.
Through our deep expertise in business process optimization, digital transformation, and operations improvement, IPM can:
Evaluate the effectiveness of the business processes in your digital ecosystem
Partner with you to design processes to maximize your capabilities and scale for future needs
Identify the best technology solution to suit your business with a vendor-neutral mindset
Lead the system implementation, meeting success criteria through planning, discipline, and governance
Leverage a robust change management plan to drive adoption and a positive influence on your culture
IPM designs processes and leads system implementations with minimum business disruption.
After working through a system initiative with IPM, your organization will:
Have minimized the disruption to your existing mission-critical operations
Have a system that suits your business for today and a system governance to sustain and scale for your future
Maximize the value of your digital ecosystem through enhanced business processes and system functionality
Realize improved efficiency, clarity of responsibilities, and operational control
IPM is the best partner for digital transformation in the food and beverage industry.
We deliver success with minimal and predictable disruption to the business and your busy leaders. According to Gartner, ERP implementation failure rates are between 55% and 75%. Meanwhile, we have an "excellent" Net Promoter Score from our clients.
We are digital transformation specialists. We have Food and Beverage experience and powerful insights about the technology landscape as it relates to the industry's business drivers. We have participated in dozens of technology projects in the Consumer Products industry, including ERP, CRM, WMS, and Enterprise Data Warehouse implementations.
We are technology-agnostic advisors with business process expertise. We are not a value-added reseller, so we've worked with many vendors' systems.
We are experienced and qualified business experts that bring outstanding project management and reliable execution. Our consultants average 18 years of experience. Our people have credentials that include PMP, PMI, Lean/Six Sigma Certification, and Supply Chain Management certification, as well as technical and business degrees (MBA, MS, PhD).
We bring the right team to the project, providing strong subject matter expertise with hands-on project leadership. Our team on the ground is backed up by IPM experts with deep technology and process management experience.